Details about the 'Missing ECU Data' message in the 'Unresolved Issues' section of the app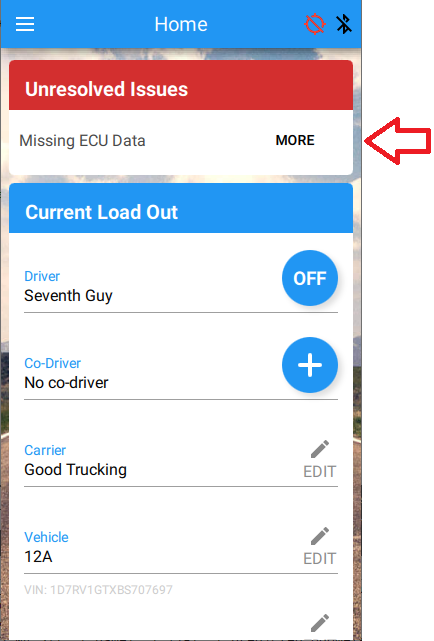 What does it mean?
This message lets drivers know that the app cannot read vehicle data required by the ELD mandate and IFTA reports.
Why is it bad?
If the app is unable to get all of the data it needs for the driver's logs then the logs will be incomplete, which might cause issues at roadside inspections or audits. In addition to driver logs, IFTA reports also use odometer readings from the ELD to track state miles. This data is needed for accurate records.
How do you fix it?
If you are not using the app to keep your driving logs then you can disable the app's ELD features, which will remove this message. To disable ELD features in the app follow this process:
Click the main menu (the icon with three horizontal lines in the top-left corner of the app).
Click Settings.
Click ELD.
Toggle the Show Driver Logs switch to off.
Close the app and restart it.
If you are using the app to keep your driving records then click MORE next to the Missing ECU Data message. This will show details about what data the ELD is reading and what data is not being provided. If new data is read while the popup is open then the messages will change to show the data.
It usually takes a few seconds after connecting for the app to start getting vehicle data from the ELD. Then, the app checks to confirm that the data is stable and consistent before doing anything with it. This takes a few more seconds.
If you have problems getting required data from the ELD please contact support at (304) 381-1512.