Details about the 'DVIR Not Completed' message in the 'Unresolved Issues' section of the app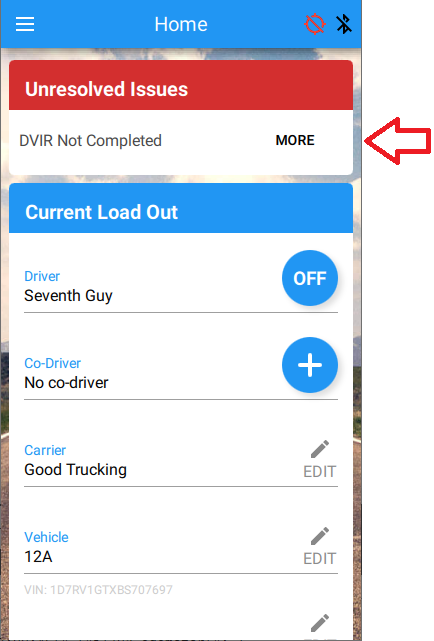 What does it mean?
This message lets drivers know that they have not completed a Daily Vehicle Inspection Report for the current day.
Why is it bad?
This is just a reminder to let the driver know that they have not done a vehicle inspection today.
There is no requirement to do digital vehicle inspections. It is ok to do paper-based vehicle inspections and to not use the app for vehicle inspections.
How do you fix it?
Since there is no requirement to do daily vehicle inspections in the app, one option is to disable the reminder:
Click the main menu (the icon with the three horizontal lines at the top-left corner of the app).
Click Settings.
Click General Settings.
Turn the DVIR reminder switch to off.
The indicator will also go away after the driver performs a vehicle inspection.
Click MORE next to the DVIR Not Completed message.
Click YES on the popup to start the inspection.
Perform the inspection and click ADD ISSUE to report any issues found.
Click the green save icon at the bottom-right corner of the screen.