You can request to join a new carrier in the web portal.
Log in to the web portal at blueinktech.com.
Click the circle with your first initial on the right side of the menu bar. Then click Account Settings.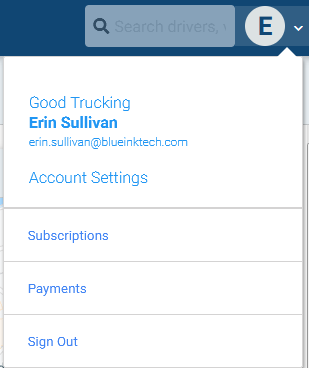 Your account settings will slide out from the right. Click on Roles to see your current carrier and roles.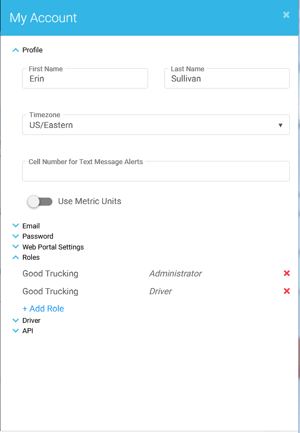 Click +Add Role to join your new carrier. You will need to enter the carrier DOT, whether your carrier is US or Canadian, and select the correct role for your account. Click Save Changes at the bottom of the screen.
If you will have multiple roles, you will need to add each role separately.
Your new carrier's administrator will receive an email notification that you have requested to join the carrier. They will need to log in to the web portal to accept you to the team and set any driver permissions for personal use and yard move.
If you are the first person to join this carrier, or the carrier doesn't have an administrator, you will be automatically accepted to the carrier.
Once you have been accepted to the carrier, you will be able to access their vehicles and sensors, and share your logs.