Send invites to your drivers from the Users page of the web portal.
From the menu bar of the Blue Ink Tech web portal, select "Team" and then "Users".
Click the blue "INVITE USERS" button in the top-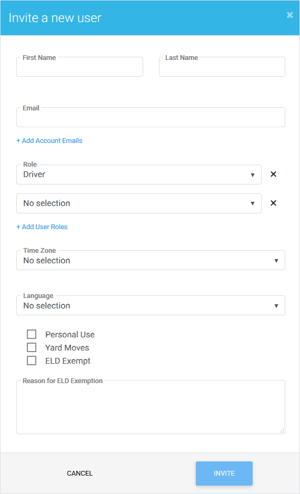 right corner of the Users page. Enter the driver's name and the email address they will use for the BIT account.
Each member of your team will need a unique email address for their account.
Next, select Driver as the user role. If you want them to have administrator rights in the web portal, you can add a second user role and select Administrator.
Fill out the Time Zone and Language for your driver.
Last, be sure to set your driver's permissions for Personal Use and Yard Moves. They will not be able to use those duty statuses in the Blue Ink Tech app unless these boxes are checked in the web portal.
Click the "INVITE" button to send an email to the driver inviting them to finish creating their BIT account.
You don't have to invite every user to your team. Anyone can create a BIT account and request to join your team by entering the correct USDOT number, MC number or phone number (whichever you used to create your own account and purchase BIT hardware). As administrator, you will have to accept or reject these requests.