This article has the download links for updating firmware for medium-duty ELDs.
Please check that your ELD adapter is model BIT17002 before proceeding with this firmware update process.
Your ELD should have 16 pins and a casing shaped like a rectangle.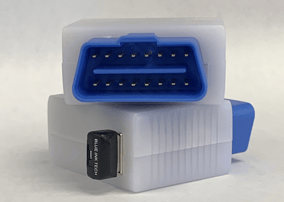 If you found this article through a search, please follow one of these two steps to confirm you have model BIT17002 and not BIT17004:
Log in at blueinktech.com and click the firmware link next to your vehicle to make sure you are taken to this same article for updating, or
Connect to your ELD adapter in the BIT app and go to Settings > ELD Adapter. Check that the model number displayed is BIT17002.
If your ELD matches the picture and description above, please continue. If your ELD doesn't match, please look at our other firmware articles to pick the correct update links.
Please follow the steps below to update your BIT ELD:
Click this link to download the file you need:
https://blueinktech.com/assets/fw/obd/NEW_ELD.BIT
Unplug your OBD-II adapter from your vehicle and remove the USB stick.
Plug the USB stick into your computer and open the device folder to view the files.
Remove any files already in the device folder. Keep the folder open.
Open you Downloads folder in a new window and locate the file named "NEW_ELD.BIT"
Click and drag this file into the USB device folder.
You can now remove the USB stick from your computer and put it back in your OBD-II adapter.
With your vehicle's engine running, plug the OBD-II back into your diagnostic port. The ELD should blink purple while updating, which could take a minute or so.
If the OBD-II doesn't blink purple, unplug it and wait a moment, then plug it back in. Once the update is complete, it will blink red-white-blue and be ready to connect.
You can check that the update was successful by connecting to your OBD-II from the BIT app, then going to Settings > ELD Adapter. The firmware displayed on the screen should end in .55.
If you have any issues or questions, please call the BIT Support Team at 304-381-1512.