Details about the 'Bluetooth Scanning Disabled' message in the 'Unresolved Issues' section of the app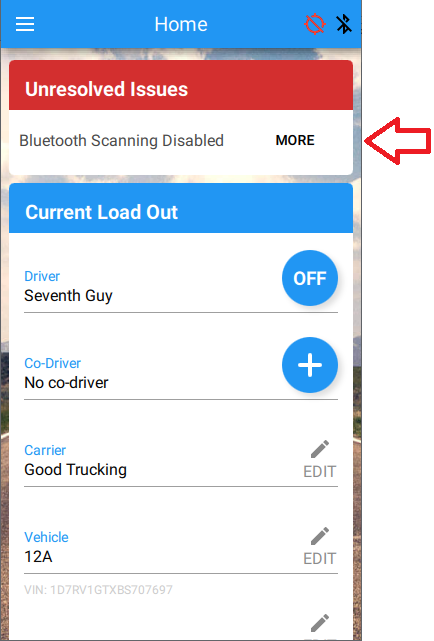 What does it mean?
This message lets drivers know that the app is configured to not scan for ELDs.
Why is it bad?
This setting will prevent the app from connecting to ELDs, which would prevent the app from being able to put ECU data (odometer readings, engine hour readings, etc) in the driver's logs. This data is required by the ELD mandate.
However, this message does not always indicate an error. Drivers can use this feature when driving with a codriver to prevent their app from connecting to the vehicle's ELD. If the driver and codriver are each using their own, separate device then only the one behind the steering wheel should be connected to the ELD. The one not driving can enable this setting to prevent their app from connecting to the ELD by mistake when they are not actively using the vehicle.
How do you fix it?
Click MORE next to the Bluetooth Scanning Disabled message.
Click YES to go to the ELD Adapter settings page.
The top setting is labeled Disable ELD scans and the toggle switch will be blue and to the right when scanning is disabled (see the screen shot below). Click the switch so that it is gray and to the left to enable scanning for ELDs.