Details about the 'Account Locked' message in the 'Unresolved Issues' section of the app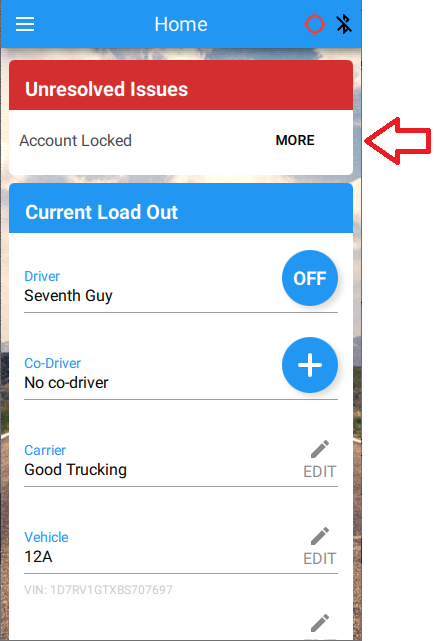 What does it mean?
This message lets drivers know that their password was changed on the website and they need to log back in to the app so that the app has their updated account credentials.
This message indicates that the app has tried to use the driver's old login information multiple times when sending data to the Blue Ink Tech servers and the server has temporarily suspended the driver's account.
Why is it bad?
The app will not be able to sync its data with the Blue Ink Tech servers until the driver's login information is updated. This will prevent new driver logs from being available for transmission to the FMCSA during a roadside inspection or during an audit. This will also prevent the logs from being visible to the carrier on the website.
How do you fix it?
To resolve this issue log out of the app and enter your updated password. You can log out by clicking the icon of the 3 horizontal bars at the top-left of the screen, scrolling down to the bottom of the menu, and selecting Log out.
If you have forgotten your password you can request a password reset by clicking on
Reset my password
on the app's login page. This will send an email with password update instructions to the email address the driver used when they made their account.