You can request to join a new carrier in the web portal.
Log in to the web portal at blueinktech.com. Select My Account from the left-hand menu, then select My Roles.
You will see a table with all the roles (administrator, driver or user) you have with your current carrier. Click the "Request to Join a Carrier" button at the top of the table.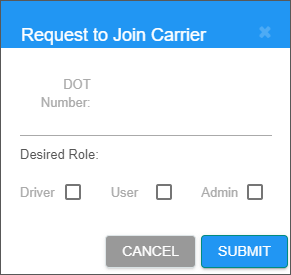 Enter the DOT Number for your new carrier and check the box for the role you will have there. If you will have multiple roles, you will need to make a separate request for each one.
Your new carrier's administrator will receive an email notification that you have requested to join the carrier. They will need to log in to the web portal to accept you to the team and set any driver permissions for personal use and yard move.
If you are the first person to join this carrier, or the carrier doesn't have an administrator, you will be automatically accepted to the carrier.
Once you have been accepted to the carrier, you will be able to access their vehicles and sensors, and share your logs. You can check your status under My Roles in the web portal.
Need to leave your old carrier? You might like our article How do I leave my old carrier?